Now and again, you find one of your Facebook friends just driving you crazy and you just need to limit their News Feed without deleting them. This is an easy thing to do to "hide" their News Feed, as well as reverse it and once again receive their feeds. All without them even knowing.
We shall use my friend and fellow Geek Girl Maura Longueil of Abbey Knoll Photography. Maura has done nothing wrong, and I don't really want to silence her news about her kids (because they are so darn cute) and pictures of martinis (because they are so darn cute), but because she is a good sport, we shall use her for this exercise.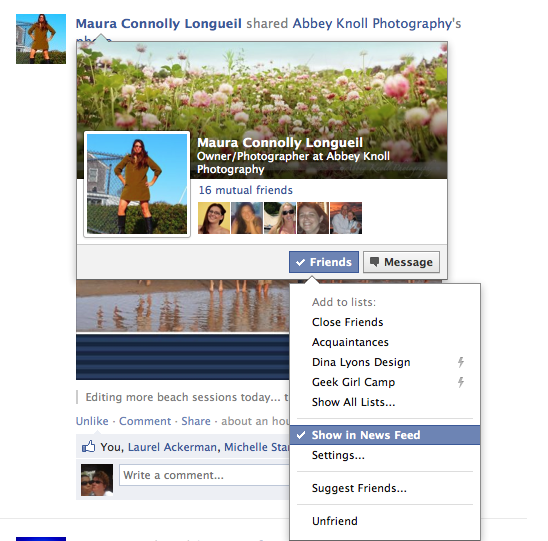 First, make sure you are in your News Feed. You can do this by clicking the Facebook logo in your top left corner or just going into the left side navigation where it says "News Feed".
Take your mouse hover it over the person's name you want to hide in your news feed. You will see a pop-up, find where it says "Friend" button. There is also a matching friend button on their profile timeline where you can go. From this pop-up simply uncheck the "Show in News Feed" option. This will now allow you to still keep them as a friend, but not in your News Feed.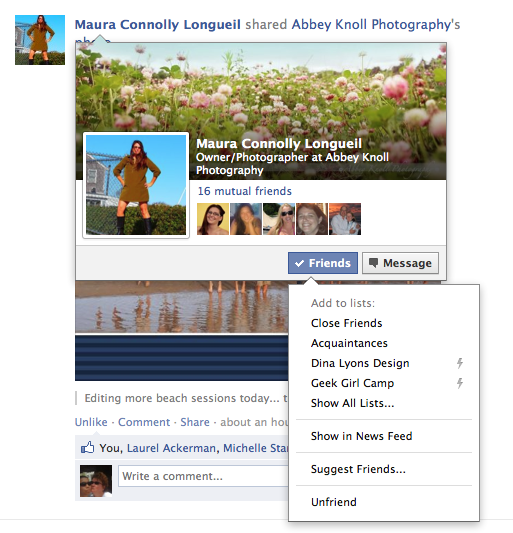 Maybe you made a mistake and now want them back? That's easy, too!
Again, click on "Facebook" to ensure you are in your news feed or just going into the left side navigation where it says "News Feed".

While in the left sidebar, hover your mouse to the right of the word "News Feed". An icon that looks like a pencil will appear. Click on that and a drop-down will open. Where it says "Edit Settings", click that. You will be brought to the "Edit News Feed Settings" window. In the settings menu, locate the friend you hid, and they should automatically appear. Choose the "X" to the right of their name to unhide them. Don't forget to Save your Settings!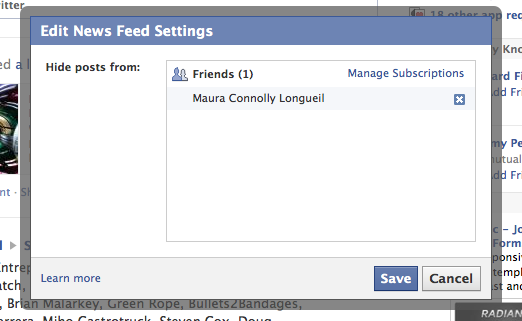 There you go. Easy, fast and your friend may never know it happened.