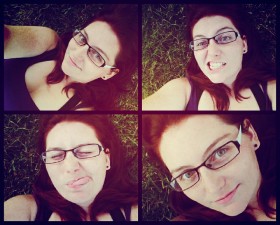 Who are you and what do you do?
Professional Nomad and I create media by shear force of will.
What will you be teaching at the Geek Girl Conference this year?
How to take over the world….with video….and the Internet.
What was your favorite part of the Geek Girl Conference last year?
The Sandwiches. GEEKING OUT OF COURSE!
PC or Mac?
There is no PC. There is only Zuul.
When did you first know you were geeky?
When I joined Geek Girl. Before then,…I was Artsy. So now I'm an Artsy Geek?
Star Wars or Star Trek?
Both, mixed. These are not the answers you are looking for.
Choose 5 people from any moment of time to have dinner and drinks with. Who would they be and why?
Juliette Gordon Low: (Girl Scout Founder) Cause she's the bomb. The original J. Low!
Oscar Wilde: Purely for this quote: "Dancing is a Vertical expression of a Horizontal desire" I'd want to see his moves on the dance floor.
Charlie Chaplin: I bet he could show Oscar some moves.
Queen Victoria: We'd talk fashion, I'm a sucker for a bustle.
Dr. Who…. I have my reasons.
Who do feel has had the most impact on technology in your time?
The Users & DARPA.
Facebook or Twitter?
BOTH!
But I spend far more time on Facebook.
Tell us something about you nobody knows….
I am the Walrus.
Bah…ok…lets see.
I am extremely dyslexic. I can only spell (correctly all the time) about 40% of the words I know how to use. That's why I love to talk.