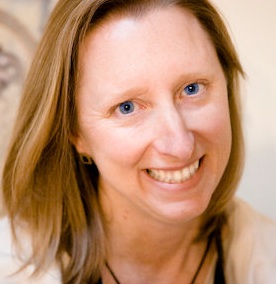 Who are you and what do you do?
Catherine Weber, Geek Girl #12, I am so many things it is difficult to figure out how to start. I am an entrepreneur, passionate social media consultant and teacher. I am also an artist, a wife and mother and storyteller. That should do it for now. If you see me at the end of the day during boot camp I might tell you that I am a huge proponent of foot massage and back rubs.
What will you be teaching at Geek Girl Tech Conference this year?
Social media strategy for businesses, social media time management, social media speed consulting and whatever else Leslie tells me to teach (within reason).
What was your favorite part of the conference last year?
Classrooms crammed with people hungry for understanding. People sitting on the desks, windowsills, and hanging from the lights (well that might have been my imagination). I LOVE our conference participants!
PC or Mac?
Mac convert. PC for 20+ years. Now, Macbook Pro, iPad and iPhone. Don't ask me what I would save if the house was burning down. The answer might cause hurt feelings.
When did you first know you were geeky?
Me? Geeky? I think it was first, out of need, being my own boss. Then it was about independence, and finally passion. But having said that, it was gradual, over the last many years.
Star Wars or Star Trek?
I was neither until my son started expecting lightsaber duels. I accepted the challenge with great enthusiasm and he tells me I fight like a Sith, whatever that means.
Choose 5 people from any moment of time to have dinner and drinks with. Who would they be and why?
Julia Child. (she brings the boeuf bourguignon ) – my heroine on so many levels, not to mention food.
Steve Jobs (he should bring the newest prototype and accidentally leave it behind for me) – brilliant man. I could learn so much from him.
Jerry Garcia (he brings a guitar and his voice) So love his music.
Mother Theresa (she brings her radiant self) So much to learn from her.
Billy Collins (poet, alive and well, funny, funny man, brings his sense of humor) He is talented, makes me laugh, and is the only one alive on this list.
Who do feel has had the most impact on technology in your time?
Bill Gates, Steve Jobs and Tim Berners-Lee.
Sorry, couldn't pick just one.
Facebook or Twitter?
Facebook, closely followed by everything else.
Tell us something about you nobody knows….

I LOVE power tools.