Lesa Snider
Lesa is on a mission to teach the world to create—and use!—better graphics. She's the author of the 800+ page tome, Photoshop CS5: The Missing Manual (2010, Pogue Press/O'Reilly), and coauthor of iPhoto '11: The Missing Manual (2011, Pogue Press/O'Reilly). Lesa is a stock photographer and chief evangelist for iStockphoto.com, and founder of the creative tutorial site, PhotoLesa.com. She writes regularly for Macworld, Photoshop User, and Elements Techniques magazines, and contributes frequently to CreativePro.com, and Design Tools Monthly (www.design-tools.com). Lesa has contributed NAPP tutorials for PhotoshopUser.com since 2003, and has several videos available on creativeLIVE.com. She also teaches Advanced Photoshop for the international online graphic design school, Sessions.edu. You can catch her online at Facebook.com/PhotoLesa (click 'like' for a free Photoshop cheatsheet!), Twitter: @PhotoLesa, or via email: [email protected] free time, you'll find her carving up the Rockies on her BMW F800ST, skiing, reading/watching sci-fi, or hanging with fellow Apple Mac enthusiasts. Lesa is a proud member of the BMWMOA and the Colorado Mac User Group (www.CoMUG.com), aka the Boulder Mac Maniacs.
Alecia Jean Orsini Lebeda
Alecia Jean Orsini Lebeda is a blogger and award winning independent film maker. A lifetime Girl Scout, she found her geek legs while making PSA's for the scouts at her local cable access studio. Alecia later attended the Savannah College of Art and Design where she graduated with a BFA in Film and Television. She is currently the Production Coordinator at Falmouth Communtiy Television and Co-Founder at Good Natured Dog Productions. She can often be found geeking out on twitter @alecialebeda. For more about Alecia visit: www.aleciajeanorsini.com
Adrienne Baumann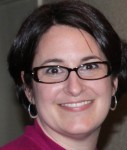 Adrienne Baumann, Geek Girl #8, has been involved with Geek Girl Camp since its inception and is effectively a "geek" by association.  Professionally, Adrienne's career has been focused on sales and marketing in the hospitality and non-profit industries; however, she is proof positive that you don't have to be in the tech world to be a Geek Girl!  Naturally curious and an avid learner, Adrienne has been soaking up the geek since the early '80s when she first started using computers as a kid at her family's travel agency.
Always eager to contribute to the enrichment of others (seriously, she genuinely embodies that whole hospitality and sharing thing!), Adrienne has been one of our awesome Volunteer Coordinators from the beginning.  She also recently became a certified Constant Contact Local Expert and Solutions Provider and we are thrilled she will be offering her Email and Social Media Marketing expertise at Boot Camp this year.
Adrienne received her B.A. in English Literature and Creative Writing from the University of South Florida, Tampa; is currently studying for her MPA (Master of Public Administration) at Bridgewater State University; and just enrolled at the ImprovBoston in Cambridge for fun.  She lives in East Falmouth with her husband and their 1 year old son.  When she's not updating her Facebook status, Tweeting, blogging, taking pictures, or changing diapers, Adrienne enjoys snuggling with her kitty, drinking lots of coffee, and Skyping with her family.