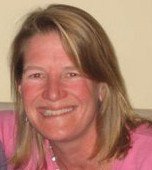 Who are you and what do you do?
My name is Heather Jackson and I do the monkey dance. I also own 2 marketing businesses, Hammerhead Creatives and ActionJackson Marketing. Hammerhead Creatives specializes in custom logo'd apparel and promo products- aka SWAG like the sweet thermal bags you get at the conference. Through ActionJackson Marketing I provide e-mail newsletter marketing services including presentations to businesses and associations as well as individualized training and campaign management. As an Authorized Local Field Expert for Constant Contact, I am able to offer extended services and expertise.

What will you be teaching at the Geek Girl Tech Conference this year?
Sick of spam? (Who isn't?!?!) Want to make sure your customers don't think your e-mails are spam? (and thus delete them.) I will be teaching you how to create, write and manage your e-mail newsletter marketing campaigns so that you can be sure your e-mails are opened, read and impactful. Topics of discussion include best practices, tips & trends, how to improve your open/click/share rates, writing killer subject lines and analyzing result. E-mail marketing is extremely powerful if done the right way. I will also be available to answer any general marketing questions as marketing is my passion.
What was your favorite part of the conference last year?
The help desk is an amazing resource- to get 1 on 1 training and actually come away with something concrete is awesome. Then of course I loved the post party.
PC or Mac?
oohh…just switched to a Mac and having some growing pains (I need GGC help!) but love the intuitiveness of it…but I love my Android that let's me run my business anywhere.
When did you first know you were geeky?
When I wrapped a Geek Girl Coozie around a tasty beverage.

Star Wars or Star Trek?
Starfish. As a native Californian, I'd way rather be in the ocean than in the theatre. I have not missed a polar plunge in 10 years and swam every month in 2010 in Nantucket Sound (yeah- that was on a bet.) There's a good chance I am part mermaid.

Choose 5 people from any moment of time to have dinner and drinks with. Who would they be and why?
Margaret Sanger – hugely courageous and impactful. Among her great accomplishments, her newsletter was entitled The Woman Rebel: "No Gods, No Masters." I love bad ass women.
Stephen Colbert- There is nothing better than hanging out with smart & funny people; I put a premium on laughter. Stephen makes me laugh out loud daily; also I like to be with people who clearly love what they do (and are good at it.)
Babe Didrikson Zaharias – fellow Norwegian and amazing athlete. A world class track & field and basketball star, she was best known for her golf prowess (she was the first female to compete in The LA Open, a mens' PGA event, in 1938, a feat unmatched for 60 years.) Babe was also an accomplished seamstress, harmonica player and pool shark; I am sure she was funny too.
Neil Diamond – if you've ever been to one of his shows, you'd know why. Give me some of that unbuttoned purple glitter shirt, a big bad American flag and sing me Forever in Blue Jeans or anything else. (Note: he did point directly at me and sing "I'm a Believer" in San Francisco, 1993, seat 1G; heaven in a 5 color silk shirt and black stirrup stretch pants.)
Our Hound, Miller- I'd love to know what she is really thinking (I think) and how she stays so patient and sweet in spite of all our antics. She probably has some good cat jokes too.
Who do feel has had the most impact on technology in your time?
Tough to go with other than Steve Jobs don't you think? Product, strategy, branding…best in all areas. If my mom thinks an iPhone is the bees knees (and she can operate it) what more can you say.

Facebook or Twitter?
Facebook as long as I don't fall into the vortex…but I do try to put my phone away when I am out with friends as they deserve my full attention.

Tell us something about you nobody knows….
When I was 10 my grandfather was President of the Tournament of Roses and in addition to riding in the parade on an antique fire truck, I got to have breakfast and even say grace with Grand Marshall Frank Sinatra (yes his eyes are really blue.)