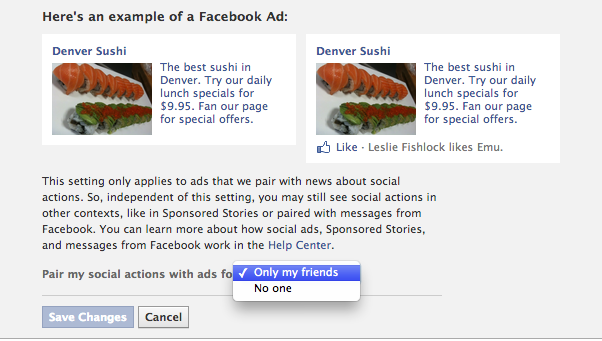 Gone are the days when Facebook used to have to ask you for permission to use any of your pictures for advertising and all you needed to do was give them this permission merely by opting-in to the program.
And unless you knew, and you opposed this and knew how to opt-out, then chances are you are probably in danger of having Facebook use your own pictures in what they call "Social Ads".
The way Social Ads on Facebook works is based on relevancy; say you like Unicorn Meat. Facebook knows you like Unicorn Meat so what they will do is show an ad to your friends on Facebook with your picture on it tricking your friends to believe it's got to be good if you like it.
What is more frightening is the new privacy rule for minors. Facebook's new language in their privacy policies states that all minors under the age of 18 must agree to the following language when signing up to use Facebook by "representing that at least one of your parents or guardians has agreed to the use of your pictures on your behalf". How many kids do you know who are actually going to do this? Very few.
We would suggest you not only change your own privacy settings immediately if you do not want your pictures being used for Social Ads, and send this post to your friends and family so they can change their settings as well.
This is how easily you can change it:
Go to the gear icon in top right hand corner
Select Privacy Settings
In the left navigation menu click Ads
In the Ads & Friends section, select "No One" from the drop-down menu
Don't forget to Save
How many people already knew about this? How many are going to change theirs immediately?
Comment below with any thoughts or questions you may have.