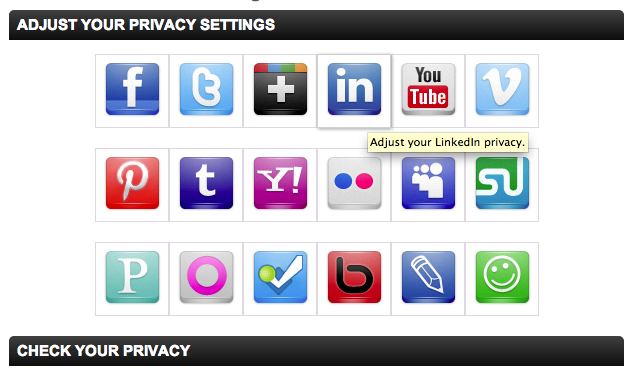 Granted, this isn't anything ground-breaking or earth-shattering, but it is nice to know there is a site you can go to that finds the Privacy Settings on all your Social Media accounts so you can make any changes quickly. Sometimes the pages that contain the information on how to adjust your settings can be deeply embedded on a Social Media site and it take a good portion of time to find it.
With AdjustYourPrivacy.com, you can click on to any of the Social Media icons you use, and it will bring you right to that area.
Quick links to your Facebook, Twitter, LinkedIn, Google+, YouTube et al, will certainly help you just get their faster; especially if the situation arises when you have to do it fast because you've been compromised.
This is just another great shortcut tip that will help you as the Privacy issues surrounding Social Media just keep getting more pervasive in our lives whenever we are using social networking sites.
Anyone finding this useful to you?
Enjoy!